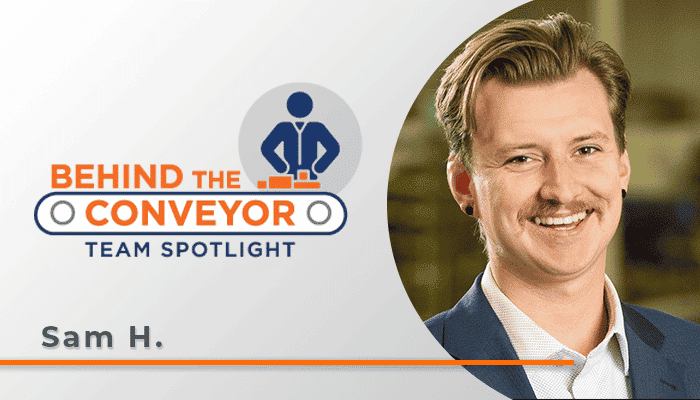 Behind the Conveyor – Team Spotlight
Dorner has become a global brand in conveyor automation – and that's all thanks to our team. In this blog series, we highlighted talented professionals whose dedication and passion are making a positive impact on your conveyor systems. These are the faces behind the brand who are helping to transform conveyor automation … and having fun doing it!
Meet Sam
With his father, Mike H., a longtime fixture at Dorner, Sam H. had some big shoes to fill with his new colleagues.
From starting out in the shop floor doing miscellaneous work at just 18, Sam parlayed that experience into a summer engineering internship two years later.
Now a full-time mechanical design engineer, Sam owes his growth at Dorner to the close-knit engineering team who have all lent a mentored hand to him.
"Some people have been here 20 or 30 years, they're a wealth of helpful information, especially to younger people starting out at Dorner," Sam said. "We really have a great group of people here."
As an engineer, Sam gets the satisfaction of watching his designs and solutions come to life for customers.
"It's super rewarding when you design something, it gets made correctly, your design [is] smooth, and everything comes together. It's very rewarding," he said.
While Mike's path led down the New Product Development career, Sam is finding success and enjoyment in the Engineered Solutions Group. It is safe to say that Sam is paving his own path at Dorner.
The Dorner Difference
It's professionals like Sam that go above and beyond each and every day. Our global workforce takes pride in partnering with our customers to optimize efficiency and productivity in their applications. We accomplish this through the design, manufacture, support and distribution of high-quality conveyor systems that meet our demanding standards.
That's the Dorner Difference.